Previous Page
Northwest Film Forum
1515 12th Avenue, Seattle, WA 98122
Movieline: 1-(206)-267-5380
Website: http://www.nwfilmforum.org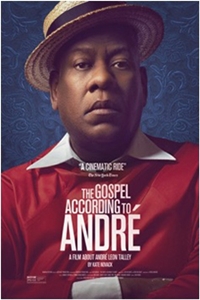 The Gospel According to André (PG-13)
Cast: André Leon Tally
Runtime: 1 hr. 34 mins.

André Leon Tally has been a fixture in the world of fashion for so long that it's difficult to imagine a time when he wasn't defining the boundaries of great style. Kate Novack's intimate portrait, The Gospel According to André takes viewers on an emotional journey from André's roots growing up in the segregated Jim Crow South to become one of the most influential tastemakers and fashion curators of our times.

Novack's film draws fascinating, heretofore unexplored connections, between the elegance of André's beloved grandmother and the Black Church of his youth and his later iconic, barrier-breaking work at publications like Women's Wear Daily, W and Vogue. Weaving together a wealth of archival footage from the most glamorous moments in fashion history with André's poignant reflections on his life and career, The Gospel According to André is a cinematic monument to one of the most unique figures of 20th Century American culture.

Produced by the team who brought viewers The First Monday in May and Page One: Inside The New York Times and featuring commentary from fashion luminaries including Anna Winter, Marc Jacobs and Tom Ford, The Gospel According to André is an indispensable addition to the growing canon of fashion documentary. Here to be Heard: The Story of The Slits ()
Cast: Viv Albertine, Don Letts
Runtime: 1 hr. 26 mins.

"HERE TO BE HEARD" The Story of The Slits" is a film about the world's first all girl punk band who formed in London in 1976, contemporaries of The Clash & The Sex Pistols, they are the pioneering godmothers of the musical movement known as "Punky Reggae". The film tells the story of the band and the lives of the women involved, from the bands inception in 1976 to the bands end in 2010 coinciding at the death of lead vocalist Ari Up. When Ari passed away she was working with SLITS tour manager and friend Jennifer Shagawat on a film about the band. After Ari passed and the film was still not completed Jennifer contacted her long time friend bill over at Molasses Manifesto to come on and help finish the project.