Previous Page
Pacific Science Center IMAX - PACCAR IMAX Theater
200 Second Avenue North, Seattle, WA 98109
Movieline: 1-(206)-443-4629
Website: http://www.pacsci.org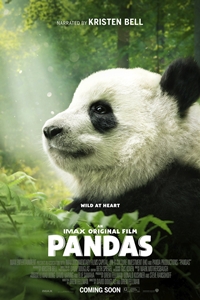 Pandas 3D (G)
Cast: Kristen Bell
Runtime: 40 mins.

Pandas are beloved around the world, and now they are coming to the big screen in the IMAX® original film "Pandas," a breathtaking documentary adventure and amazing experience for the whole family. At Chengdu Panda Base in China, scientists are dedicated to protecting the species by breeding adult Giant Pandas in order to introduce cubs into the wild. This film follows one such researcher, whose passion leads her to initiate a new technique inspired by a black bear program in rural New Hampshire. What starts as a cross-culture collaboration becomes a life-changing journey for an American biologist who crosses an ocean to join her; a scientist from Inner Mongolia; and a very curious female cub named Qian Qian, born in captivity.

Captured with IMAX® Cameras, join Qian Qian on an exciting new adventure in the mountains of Sichuan as she takes her first steps outside her protected habitat, discovering her true animal nature... even as she faces the challenges of the unknown.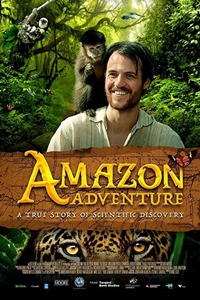 Amazon Adventure 3D (NR)
Cast: Robert Daws, Billy Postlethwaite
Runtime: 45 mins.

Amazon Adventure 3D tells the epic, true story of explorer Henry Bates' fascinating 11-year journey through the visually stunning and biodiverse Amazon rainforest as a young man who risks his life for science in the 1850's. Bates unearths the major discovery of the phenomenon of mimicry, whereby certain animals adopt the look of others that helps them deceive predators and gain an advantage to survive. Little known to the public, Bates made other crucial contributions to biology: identifying 8,000 species new to science and most importantly, putting the first ever case for the creation of a new species, which Charles Darwin called the "beautiful proof" for Natural Selection.
IMAX • Stadium Seating • Presented in 3D
10:15 AM
,
3:15 PM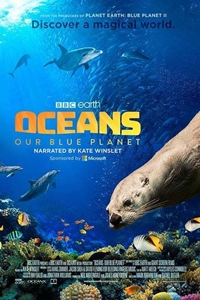 Oceans: Our Blue Planet 3D ()
Cast: Kate Winslet
Runtime: 40 mins.

Oceans: Our Blue Planet takes audiences on a global odyssey into the largest and least explored habitat on earth. Our first stop is the coral reefs, where we meet fascinating characters like the ingenious tuskfish that uses a tool to open its food. In the great forests of the sea, we find a cunning octopus who shields herself in an armoury of shells to hide from predators. In Antarctica, we explore unparalleled depths and encounter a seafloor rich with marine life. As we journey through our oceans, we share these extraordinary discoveries and uncover a spectacular world of marine wildlife beneath the waves.
IMAX • Stadium Seating • Presented in 3D
12:45 PM
,
4:30 PM